Landsat
The Landsat 8 satellite orbits the the Earth in a sun-synchronous, near-polar orbit, at an altitude of 705 km (438 mi), inclined at 98.2 degrees, and circles the Earth every 99 minutes.  The satellite has a 16-day repeat cycle with an equatorial crossing time: 10:00 a.m. +/- 15 minutes.  
Landsat 8 data are acquired on the Worldwide Reference System-2 (WRS-2) path/row system, with swath overlap (or sidelap) varying from 7 percent at the Equator to a maximum of approximately 85 percent at extreme latitudes. The scene size is 170 km x 185 km (106 mi x 115 mi). 
Data products created from over 1.3 million Landsat 8 OLI/TIRS scenes are available to download from EarthExplorer, GloVis, and the LandsatLook Viewer. 
Landsat 8 Instruments
Operational Land Imager (OLI)  –  Built by Ball Aerospace & Technologies Corporation
Nine spectral bands, including a pan band:

Band 1 Visible  – Spectral resolution -(0.43 – 0.45 µm),  Spatial resolution – 30 m
Band 2 Visible – Spectral resolution -(0.450 – 0.51 µm),  Spatial resolution -30 m
Band 3 Visible – Spectral resolution -(0.53 – 0.59 µm),  Spatial resolution -30 m
Band 4 Red – Spectral resolution -(0.64 – 0.67 µm),  Spatial resolution -30 m
Band 5 Near– Spectral resolution -Infrared (0.85 – 0.88 µm),  Spatial resolution -30 m
Band 6 SWIR 1- Spectral resolution -(1.57 – 1.65 µm),  Spatial resolution – 30 m
Band 7 SWIR 2 – Spectral resolution -(2.11 – 2.29 µm),  Spatial resolution – 30 m
Band 8 Panchromatic (PAN) – Spectral resolution -(0.50 – 0.68 µm),  Spatial resolution – 15 m
Band 9 Cirrus – Spectral resolution -(1.36 – 1.38 µm),  Spatial resolution – 30 m
OLI captures data with improved radiometic precision over a 12-bit dynamic range, which improves overall signal to noise ratio. This translates into 4096 potential grey levels, compared with only 256 grey levels in Landsat 1-7 8-bit instruments. Improved signal to noise performance enables improved characterization of land cover state and condition.
The 12-bit data are scaled to 16-bit integers and delivered in the Level-1 data products. Products are scaled to 55,000 grey levels, and can be rescaled to the Top of Atmosphere (TOA) reflectance and/or radiance using radiometric rescaling coefficients provided in the product metadata file (MTL file).
Thermal Infrared Sensor (TIRS)  –  Built by NASA Goddard  Space Flight Center 
Two spectral bands:

Band 10 TIRS 1 (10.6 – 11.19 µm) 100 m
Band 11 TIRS 2 (11.5 – 12.51 µm) 100 m
The Bands
Band 1 senses deep blues and violets. Blue light is hard to collect from space because it's scattered easily by tiny bits of dust and water in the air, and even by air molecules themselves. This is one reason why very distant things (like mountains on the horizon) appear blueish, and why the sky is blue. Just as we see a lot of hazy blue when we look up at space on a sunny day, Landsat 8 sees the sky below it when it looks down at us through the same air. That part of the spectrum is hard to collect with enough sensitivity to be useful, and Band 1 is the only instrument of its kind producing open data at this resolution – one of many things that make this satellite special. It's also called the coastal/aerosol band, after its two main uses: imaging shallow water, and tracking fine particles like dust and smoke. By itself, its output looks a lot like Band 2 (normal blue)'s, but if we contrast them and highlight areas with more deep blue, we can see differences:
Bands 2, 3, and 4 are visible blue, green, and red. But while we're revisiting them, let's take a reference section of Los Angeles, with a range of different land uses, to compare against other bands:
Band 5 measures the near infrared, or NIR. This part of the spectrum is especially important for ecology because healthy plants reflect it – the water in their leaves scatters the wavelengths back into the sky. By comparing it with other bands, we get indexes like NDVI, which let us measure plant health more precisely than if we only looked at visible greenness.
Bands 6 and 7 cover different slices of the shortwave infrared, or SWIR. They are particularly useful for telling wet earth from dry earth, and for geology: rocks and soils that look similar in other bands often have strong contrasts in SWIR. Let's make a false-color image by using SWIR as red, NIR as green, and deep blue as blue (technically, a 7-5-1 image):
Band 8 is the panchromatic – or just pan – band. It works just like black and white film: instead of collecting visibile colors separately, it combines them into one channel. Because this sensor can see more light at once, it's the sharpest of all the bands, with a resolution of 15 meters (50 feet). Let's zoom in on Malibu at 1:1 scale in the pan band: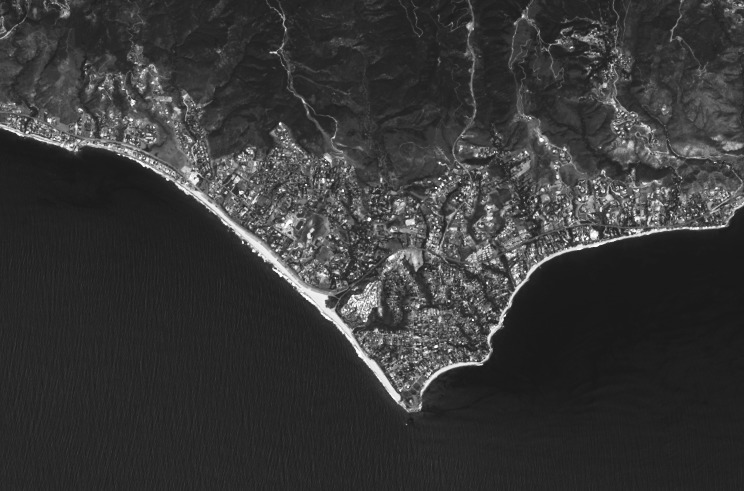 And in true color, stretched to cover the same area:
The color version looks out of focus because those sensors can't see details of this size. But if we combine the color information that they provide with the detail from the pan band – a process called pan sharpening – we get something that's both colorful and crisp:
Band 9 shows the least, yet it's one of the most interesting features of Landsat 8. It covers a very thin slice of wavelengths: only 1370 ± 10 nanometers. Few space-based instruments collect this part of the spectrum, because the atmosphere absorbs almost all of it. Landsat 8 turns this into an advantage. Precisely because the ground is barely visible in this band, anything that appears clearly in it must be reflecting very brightly and/or be above most of the atmosphere. Here's Band 9 for this scene:
Band 9 is just for clouds! Here it's picking up fluffy cumulus clouds, but it's designed especially for cirrus clouds – high, wispy "horsetails". Cirrus are a real headache for satellite imaging because their soft edges make them hard to spot, and an image taken through them can contain measurements that are off by a few percent without any obvious explanation. Band 9 makes them easy to account for.
Bands 10 and 11 are in the thermal infrared, or TIR – they see heat. Instead of measuring the temperature of the air, like weather stations do, they report on the ground itself, which is often much hotter.
A study a few years ago found some desert surface temperatures higher than 70 °C (159 °F) – hot enough to fry an egg. Luckily, LA is relatively temperate in this scene:
Bands can be combined in many different ways to reveal different features in the landscape. Let's make another false-color image by using this TIR band for red, a SWIR band for green, and the natural green band for blue (a 10-7-3 image):